a bed to chair transfer can be achieved with many different types of equipment. there are hoyer lifts, bed rails, patient lifts, transfer boards, and trapeze bars that all do this task. the user's strength and ability determines the type of equipment they require.
A bed to chair transfer can be easily maneuvered with the assistance of a lift. Many users of Hoyer lifts are not completely bed ridden, but may have a debilitating illness that causes extreme weakness. They may also suffer from being paralyzed, thus making it very difficult for them to transfer from their bed to a chair or wheelchair.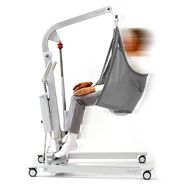 the most common type of bed to chair transfer lift is rather large, on wheels for easy moving, and runs by hydraulics. the lift has straps that attach to a washable, sturdy canvas pad that the patient sits or lays on while being transferred. there are older types of lifts available that do not use hydraulics and are cranked by hand. they are basically the same as the newer models, although somewhat harder to use because of the physical exertion of the hand crank method. for caregivers or nurses who require transfer assistance from a bed to a chair, the use of a patient lift or hoyer lift works the best, especially for patients who are unable to provide their own assistance in the transfer.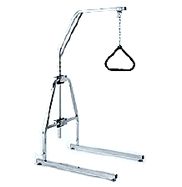 for someone with upper body strength, they can use transfer boards, trapeze bars and bed rails for independent transferring. the transfer boards allow the user to slide slowly into a wheelchair. the trapeze bars and bed rails for elderly act as stability bars to lift themselves off the bed and move at their own rate of transfer. you can put a free standing trapeze bar hovering above the bed or have an attached trapeze bar hang over the bed for disabled persons to pull themselves into position for resting, sitting or transferring without much or any assistance from caregivers.